[Title]
[text TOC]
[image TOC]
[Site Search]

[Donation]
| | Backgrounds | |
| --- | --- | --- |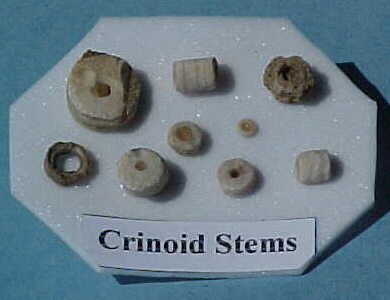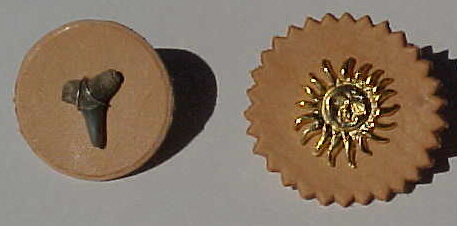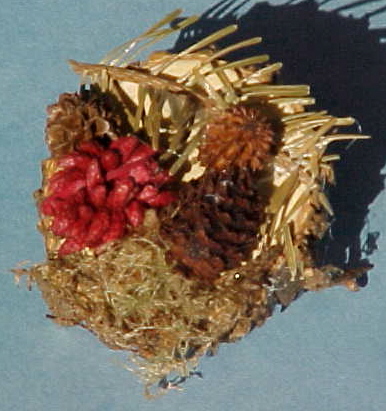 See the General Chapter for more instructions, hints, tips, and ideas.
Often you will find an interesting object that you want to make into a neckerchief slide. However, the object may be too small to be noticed. To make the object more visible, mount it on a background of a contrasting color. The background could be leather, or craft foam, wood, or even heavy paper. The special object is attached to the background using glue, wire, or thread. The advantage of leather is that a decorative border can be added.
When attaching a project with thread or wire, you can use a thread color that closely matches the project, clear thread, fishing line, or fine wire. Attach the project using the following method.
Make two small holes on the centerline of the background. This can be done with a punch or drill. The spacing between the holes must be less than the height of the object to be mounted - usually about half.
From the back side of the background run the thread through one hole, make a loop and then run it back through the same hole. You have to be careful so that this loop doesn't slide back through the hole.
Next run the thread out through the second hole, make a loop, and then run it back through the same hole.
Place the object inside the two loops. Pull the thread tight and tie it with a square knot on the backside of the background.
Put some glue on the knot to hold it securely. You might even put a little glue on the holes to hold the thread in place there.
| | |
| --- | --- |
| | Coprolite - 25 million year old poop! |


Copyright © 2001 Vincent Hale