[Title]
[text TOC]
[image TOC]
[Site Search]

[Donation]
| | Santa Cookie | |
| --- | --- | --- |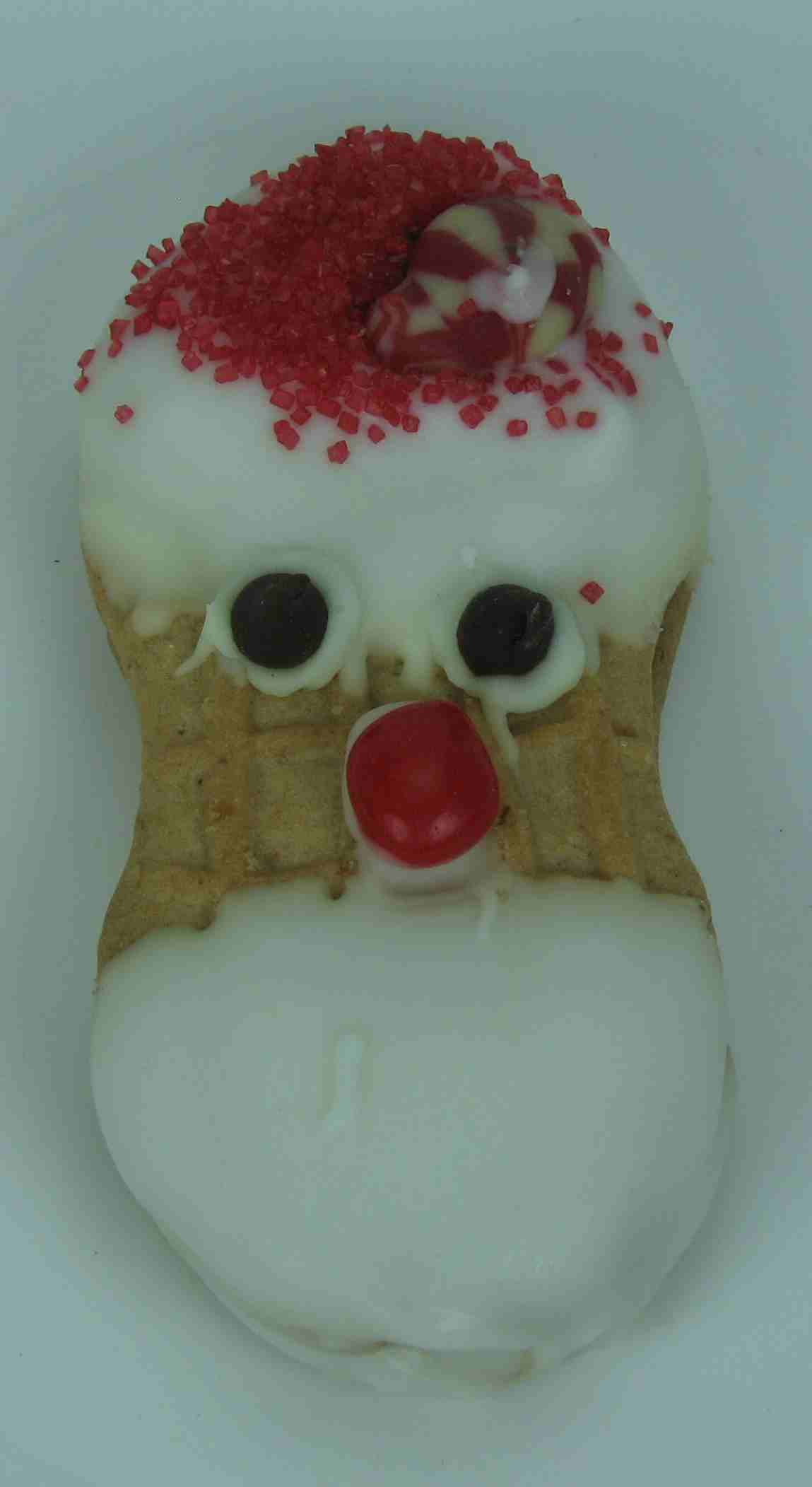 Materials
Tools
12 ounces white baking chocolate
1 package (1 pound) Nutter Butter sandwich cookies
Red colored sugar
32 vanilla/white chips
64 miniature semisweet chocolate chips
32 red-hot candies
Pan
Wire rack
Wax paper
Saucepan
Spoon
Toothpick
For other activities, see the Activities Chapter.
These cookies look so cute and yet are easy enough that even small children can help make them.
Heat the white chocolate over the lowest heat setting and stir frequently.
Turn off the heat when the white chocolate has melted.
Start by making Santa's hat. Dip one end of the cookie into the melted white chocolate. Dip it at an angle so that about one third of the cookie is covered. It isn't necessary for both sides to get chocolate (actually it is less messy if you only coat one side). You can also use a flat bladed wooden utensil with a straight edge to dip the chocolate out of the pan and spread it on the cookie.
Place the cookie on the rack over the pan.
Place a vanilla chip off center on the hat.
Sprinkle red sugar for the hat. Leave a band of white at the bottom of the hat. Use a small piece of wax paper to make a straight edge. Hold it above the cookie; don't let it touch the white chocolate. You could also use red decorating icing.
Let the cookie lay until the white chocolate has set. You can set the cookies on the wax paper if there isn't enough room on the wire rack.
Shake off the excess red sugar into the pan.
Now make Santa's beard by dipping the other end of the cookie into the white chocolate leaving the center third uncovered.
Place on the wire rack.
Scoop some white chocolate into a spoon and use it to attach the mini chocolate chips as the eyes and a red hot as the nose. Use a toothpick to apply a small dab of white chocolate to the cookie and then add the chocolate chip or red hot. When the chocolate in the spoon starts to harden, scrape it back into the pan and get a new scoop of warm chocolate.
Let sit until the white chocolate hardens.
We have been making these cookies for years and our sons hands have gotten bigger. We found that an easier (and less messy) way to place the eyes and nose is to use a toothpick to place a drops of white chocolate on the cookies and then add the mimi chocolate pieces and red-hot.
Also, see the Santa neckerchief slide made from craft foam that looks like the cookie.
This is based on the recipe by Mary Kaufenberg in the Quick Cooking magazine.


Copyright © 2003 Vincent Hale