[Title]
[text TOC]
[image TOC]
[Site Search]

[Donation]
| | Santa Claus | |
| --- | --- | --- |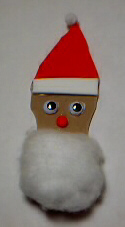 Materials
Tools
2x3" Tan foam
1x1" Red foam
1/4"x1" White foam
Cotton ball
Small red pompom (or red foam)
2 7mm wobble eyes (or black pompom)
White pompom (or small bell)
PVC ring
Hot glue
Scissors
For the eyes, you can use either the wobble eyes or black pompoms. For the top of the hat use either a white pompom or a small bell. For the nose, a small red pompom or use a hole punch to make them out of foam.
Cut out the tan foam using either a Nutter Butter sandwich cookie as the template or simply cut it to that approximate size.
Cut out the hat from the red foam. Make the hat just a bit larger than the tan foam.
Cut the band for the hat from the white foam. Trim it to the width of the hat.
Hot glue the red hat to the top of the tan foam.
Hot glue the white band to the bottom of the red hat.
Hot glue the cotton ball as the beard.
Place a drop of hot glue on the top of the hat and put on the white pompom or bell.
Place a drop of hot glue on the tan foam and put on one eye.
Repeat for the second eye and the nose.
Hot glue a PVC ring to the back.
You might also be interested in the Santa made from a film canister.
How about making Santa cookies that look like this neckerchief slide.


Copyright © 2003 Vincent Hale