[Title]
[text TOC]
[image TOC]
[Site Search]

[Donation]
| | Arrowhead | |
| --- | --- | --- |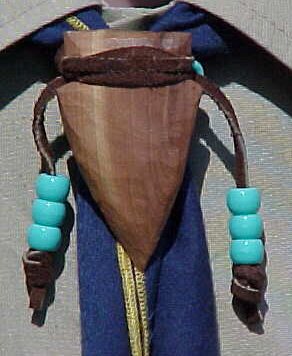 Materials
Tools
Wood/plaster
Beads, feathers, thread, glue
Knife
See the Wood Carving section for more instructions, hints and tips.
This is a good first project to do with children who are just starting out. An arrowhead is a fairly simple shape, and the proportions and shape are not that important. As long as it is roughly triangular in shape it will be fine. In short, the result will be a success and look good. Leave other objects whose shape and proportions are important to youngsters that are more skilled.
Use blanks made of plaster of Paris for younger children. Older Scouts can make very attractive arrowheads from wood. Choose a pretty piece of wood such as cedar. A PVC or wooden ring can be glued to the back to make it a neckerchief slide. You might consider decorating it with some leather lacing, beads, or feathers.
First, sketch the outline of an arrowhead on the piece of wood. Whittle the wood down to the outline, except don't do the knotches yet. Now start thinning the edges to make them sharper. Large scoops of wood removed along the edges will make it look more like a real flint arrowhead that has been made by flaking.
Finally, make the knotches by making a cut straight in and then make a notch on each side, making a V shaped notch. Keep doing this until the notch is as large as desired.


Copyright © 2001 Vincent Hale