[Title]
[text TOC]
[image TOC]
[Site Search]

[Donation]
| | Sidewalk Chalk | |
| --- | --- | --- |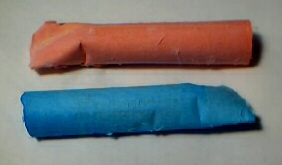 Materials
Tools
Wax paper
Plaster of Paris
Food coloring or powdered tempera paint
Scissors
Tape
Water
Paper cups
Stir Stick
See the Plaster Chapter for more instructions, hints, tips, and ideas.
Cut the wax paper a couple inches longer than you want the chalk stick to be.
Roll the paper into the size diameter chalk you want and tape it securely. The wax paper should be several layers thick. Use duct tape to re-enforce the tube if necessary.
Squeeze one end of the tube together and fold it back over itself. Tape it securely to the tube.
Put water in the cup. Estimate the amount of plaster you will need and use about 3/4 that amount of water.
Optionally, add either food coloring or powdered tempera paint to the water for coloring.
Add plaster of Paris to the water. Stir it gently and when it is thoroughly mixed, pour it into the tube. You can squeeze the lip of the cup to form a spout to help you pour it more easily. Use the stir stick to help scrape out the last bit of plaster.
Tap the bottom of the tube on the counter a few times. Stand the tube in a heavy glass or cup until it has set hard.
Peel the wax paper from the chalk. The chalk needs to dry thoroughly (a day or more) before it is used. Have fun on the sidewalk!
You can also use paper cups or empty paper rolls (like toilet paper or paper towels come on) as molds. Use duct tape to cap the ends of the tubes.
For a variation, fill up the tube half way with one color and then pour another color on top of it.
Always have some extra tubes made in case you have extra plaster.


Copyright © 2003 Vincent Hale