[Title]
[text TOC]
[image TOC]
[Site Search]

[Donation]
| | Friendly Snowman | |
| --- | --- | --- |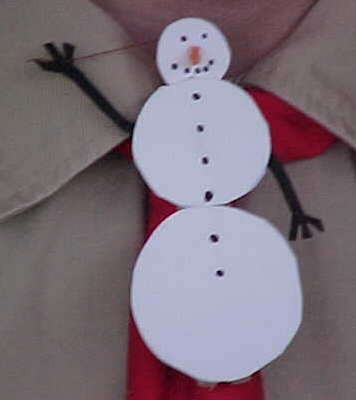 &nbsp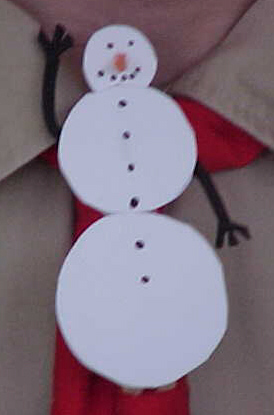 Materials
Tools
3"x4" white craft foam
Orange foam
3/4" x 2" black foam
2' black thread
Clothespin
2 white pony beads
PVC ring
Aluminum foil
Black marker
Hot glue
Scissors
Pen
Lid and coin templates
See the Moving Chapter for more instructions, hints, tips, and ideas.
Find three objects to use as templates for the snowballs. You'll need one about 2", 1 1/2", and 1". The sum of all the diameters needs to be at least 1/4" longer than the clothespin is long. Lids and coins are the easiest templates to find.
On the white foam, trace around the templates with a ballpoint pen and cut out the circles. Cut small slivers of foam off the top and bottom to flatten out the circles so the fit closer together and look more like snowballs.
Hot glue the white circles to the clothespin with the ink side next to the clothespin so it doesn't show. Start with the head and place so that it extends about 1/4" above the clothespin. This will hide the pony bead when you glue it on later. Next, glue the middle and bottom snowballs onto the clothespin.
Hot glue a pony bead onto the top of the clothespin and touching the back of the snowman's head. Glue it so that both ends of the bead hole are on the sides.
Cut out the stick arms with hands from the black craft foam. The arms should be between 1/8" and 1/4" wide to move properly.
Hot glue the arms to the back of the middle snowball - one arm up and out to the side and one down as shown in the photos.
Tie the thread around the hand that is raised. Hot glue the thread to the back of the hand if necessary.
Run the thread through the pony bead and tie the second pony bead to the other end.
Cut a small sliver of orange craft foam to look like a carrot and glue it on for the nose.
Draw the eyes, mouth, and buttons with the black permanent marker.
Hot glue a PVC ring to the back of the clothespin.
If you have trouble with the thread catching on the clothespin (because the wood is rough), hot glue a small piece of aluminum foil to the head of the clothespin under the thread.


Copyright © 2005 Vincent Hale