[Title]
[text TOC]
[image TOC]
[Site Search]

[Donation]
| | Pirate with Sword | |
| --- | --- | --- |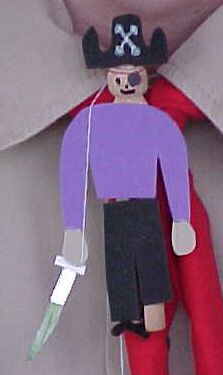 &nbsp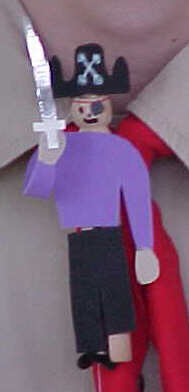 Materials
Tools
Clothespin
Craft Foam
Thread
Aluminum Foil
2 Pony beads
Poster board
Black felt
PVC Ring
White Permanent Marker
Black Permanent Marker
Hot Glue
Scissors
Hole Punch
Glue Stick
Pen
See the Moving Chapter for more instructions, hints, tips, and ideas.
With a pen, trace the pirate hat, shirt, and pants, and sword on craft foam using the patterns below.
Carefully cut them out with scissors.
Draw the eyes and mouth of the pirate on the clothespin.
Draw crossed bones on the hat with the white marker.
Hot glue the shirt to the clothespin first.
Then hot glue the pants and hat to the clothespin.
Hot glue the PVC ring to the back of the clothespin (use a smaller PVC ring to hold the slide on tight). Hot glue one pony bead to the middle of the back of the head as shown in the photo below.
Make the eye patch by coloring the poster board black with the marker and punching a 1/4" hole.
Hot glue the hole to the middle of a piece of thread about 2" long. Or just hot glue it over one eye.
Position the hole over one eye and hot glue the thread in place on the back of the head.
Use the glue stick on the sword and wrap the aluminum foil around the sword.
Hot glue the thread to the front of the sword's handle.
Hot glue the sword's handle to the back of the pirate's arm.
Run the thread through the pony bead and tie the second pony bead to other end of thread.
Make one shoe by cutting an oval out of black felt.
Hot glue the shoe onto one leg and trim it to look more like a shoe. You can use a black marker to color the bottom of the clothespin to make it look more like a shoe.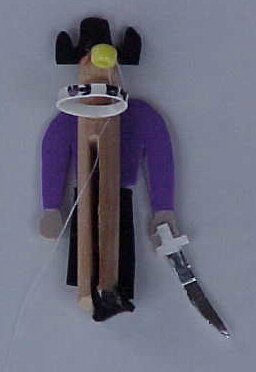 Back of Pirate

The shape of the shirt is critical for the motion. If the arm is not cut up high enough the arm won't bend properly. For younger children, you could pre-cut the shirts for them.
To simplify the pirate for younger children or a shorter period of time, leave off the thread, aluminum foil, and shoe.


Copyright © 2004 Vincent Hale