[Title]
[text TOC]
[image TOC]
[Site Search]

[Donation]
| | Saluting Scout | |
| --- | --- | --- |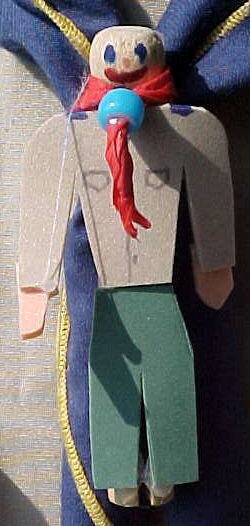 &nbsp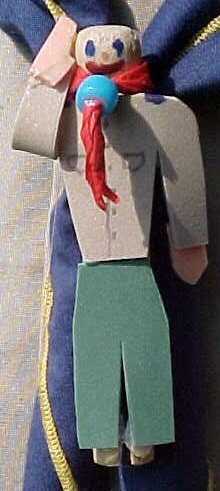 Materials
Tools
Clothespin
Olive green craft foam
Khaki craft foam
Flesh colored craft foam
2 Pony beads
18 inches of thread
1 PVC ring
E-6000™ Glue
Hot glue
Markers
Pen
Scissors
See the Moving Chapter for more instructions, hints, tips, and ideas.
Cut out shirt, pants, and hands from the craft foam, using templates.
Glue pants and shirt on clothespin with hot glue.
Glue hands to back of sleeves with hot glue.
Draw pockets and button on shirt with pen.
Draw face on clothespin with markers.
Glue bead to back middle of head at top using E-6000™, as shown in photo (may be done ahead of time).
Glue PVC ring to back of clothespin using E-6000™ (may be done ahead of time).
Glue end of thread to back of hand. The long end of string should extend past the finger tips. Glue the thread all the way to the end of the fingers.
Take the long end of thread over fingers, up over head, and down through bead.
Tie bead to end of thread.
While holding the thread so the Scout is saluting, move the hand to the spot where you want him to salute (over the right eye). Make a mark with a pencil where the thread goes across the top of the head. Now move the thread aside. With a knife or the edge of a file, make a small groove where the thread is supposed to go. This will help the thread track each time to give a better looking salute. Thanks to Patrick Nance for the hint.
If desired, fashion neckerchief and add slide.
| | | |
| --- | --- | --- |
| | | |
Back of Saluting Scout
Notice how bead is centered on the back of the head.


Another variation of this is the coffee drinker. Attach the bead to the bottom of the head in the back. Run the thread beside the head. This will bring the hand to the vicinity of the mouth. Use a piece of straw or dowel rod to make a cup and attach it to the hand with hot glue. Experiment to find the right position for the cup.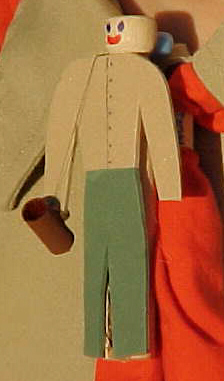 &nbsp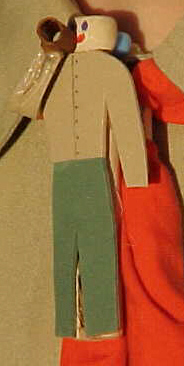 You might also be interested in the Knight with moving Sword.


Copyright © 2001 Vincent Hale