[Title]
[text TOC]
[image TOC]
[Site Search]

[Donation]
| | Knight with Sword | |
| --- | --- | --- |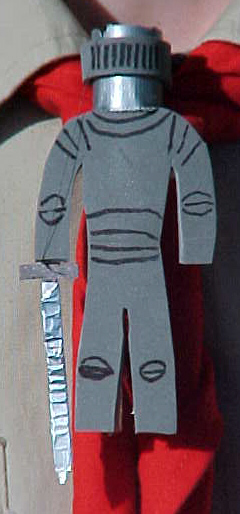 &nbsp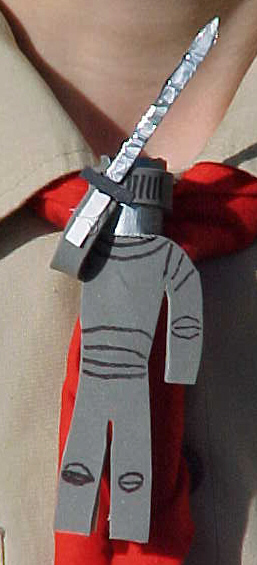 Materials
Tools
Clothespin
Gray Craft Foam
Thread
Aluminum Foil
2 Pony beads
PVC Ring
Black Permanent Marker
Hot Glue
Duct Tape
Scissors
Knife
See the Moving Chapter for more instructions, hints, tips, and ideas.
Cut knight, helmet, mask, and sword from craft foam using patterns below.
Wrap helmet around head of clothespin and tape in place with Duct Tape. Hot glue mask to helmet.
Hot glue knight to clothespin.
Hot glue PVC ring to back of clothespin (use a smaller PVC ring to hold slide on tight). Hot glue one pony bead to middle of helmet as shown in photo below.
Decorate knight and mask with marker.
Wrap sword with aluminum foil.
Hot glue sword to back of knight's arm.
Run thread through pony bead and tie to sword's handle.
Tie second pony bead to other end of thread.
With a knife, cut a small "V" notch in the helmet to guide the thread. See notch on left of helmet in left photo above.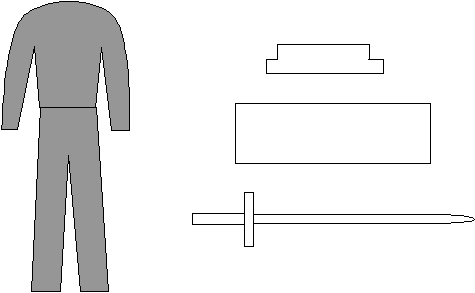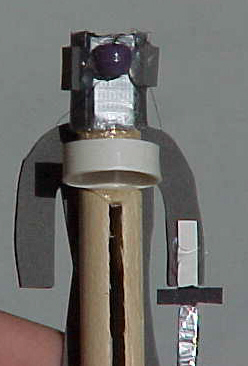 Back of Knight



Copyright © 2002 Vincent Hale