[Title]
[text TOC]
[image TOC]
[Site Search]

[Donation]
| | Magnificent Antelope | |
| --- | --- | --- |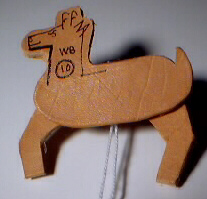 In honor of my Wood Badge patrol friends Wyatt, Sabrina, Tim, Jeanine, and Charles.
Thanks for the friendship and memories!
Materials
Tools
3"x3" stamping leather
2 flat top bolts with nuts 3/8"
1/4"x3/8" block of wood
2' string
PVC ring
Pony bead
2 pieces of nail or wire 1/2"
E-6000™ glue
Thin knife
Pen
Permanent Marker
Leather hole punch
See the Moving Chapter for more instructions, hints, tips, and ideas.
The pieces of nail or wire can be cut ahead of time using a hacksaw or wire cutters. They are used on the legs to give them extra weight. The extra weight may not be necessary if the legs move freely by themselves. You might want to make the slide first and add the weights later if they are needed.
Trace the shapes on the back of the leather with a pen using the drawing below as a template.
Cut out the shapes using a very sharp knife or scissors.
Punch holes in the legs for the bolt. Make sure the hole is large enough that the leg will turn freely.
Glue the bolts to the body in the positions indicated in the drawing below. Get a dab of glue on the bolt head and set it in place.
Glue the pony bead in place half way between the bolts at the bottom of the body.
Glue the wooden block at the peak of the back at about the middle of the body. See the illustration below.
Glue the weights (nails or thick wire) to the bottom section of each leg on the back of the leather.
Wait for the glue to set up.
Glue the string to the top of the back leg. As you look at the leg from the back, put some glue from the very top of the leg, 12 o'clock, down to about 9 o'clock. The short end of the string is at the 9 o'clock position.
Likewise, glue the other end of the string to the front leg. The glue should go from 12 o'clock to about 3 o'clock with the short end at 3 o'clock.
Thread the middle of the string through the pony bead.
Put the legs onto the bolts and put the nuts on. The nut should be just below the top of the bolt. Test that the legs move freely. If they are a little stiff, hold the bolt between your finger and thumb and then pull and push the leg to stretch the hole slightly. Also, make sure the nut is not on too tightly.
Once the legs are working properly, put a dab of glue on the nut and bolt to lock them in place.
Glue the PVC ring to the block of wood.
Decorate the front with the permanent marker.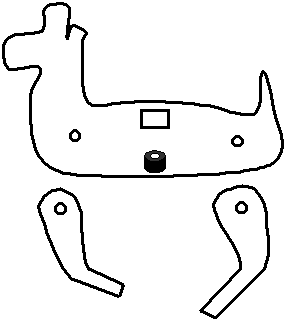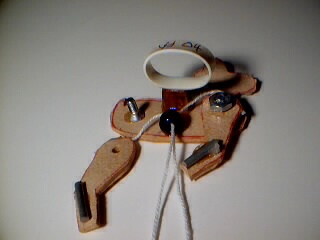 Copyright © 2004 Vincent Hale