[Title]
[text TOC]
[image TOC]
[Site Search]

[Donation]
| | State Quarter | |
| --- | --- | --- |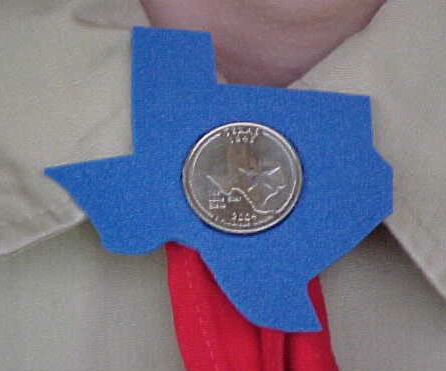 Materials
Tools
3"x3" craft foam
Quarter
PVC ring
Pen
Scissors
Hot glue
When the Texas state quarter came out, I wanted to incorporate it into a neckerchief slide. This will work for almost any state or country coin. Texas and many other states have a distinct characteristic shape. For those states without distinguishing features consider using a pen or permanent marker to write the state name, major cities, rivers, lakes, roads or landmarks.
First, find an outline of your state. Checking the Internet for clip art is probably the easiest way, but you could draw one using a computer. Put the outline in a Microsoft Word document and scale it to 2-3 inches tall and wide. Make sure the coin will fit in the boundary. Print the template and cut it out.
Place it face down on the back of a piece of craft foam. Trace around the perimeter with a pen. By tracing on the back, the marks won't show on the front.
Optional On the back of the foam, trace around a quarter or other coin that you are using. Use scissors to cut out the hole. Cut inside the line so the coin fits snugly. Check the hole and adjust it as necessary. Hot glue a strip of foam to the back of the state outline across the hole. This recesses the coin so it looks better, but if you aren't good at cutting circles, you might want to skip this step.
Use hot glue to attach a quarter. You can also use double sticky back tape to hold the coin in place.
Finally, hot glue a PVC ring onto the back.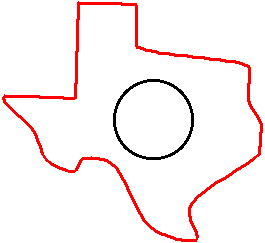 Copyright © 2004 Vincent Hale