[Title]
[text TOC]
[image TOC]
[Site Search]

[Donation]
| | Message Holder | |
| --- | --- | --- |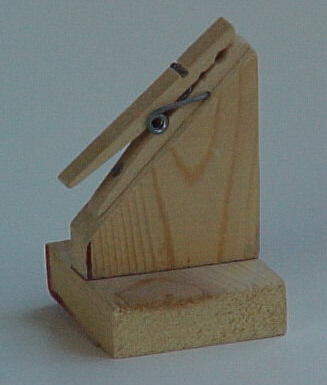 Materials
Tools
Spring clothespin
2 screws
2 nails
7"x2 1/2"x3/4" wood
Square
Pencil
Saw
Sandpaper
Hammer
Drill
Screwdriver
Clamps and Sawhorses
Permanent marker
This is a handy message or reminder holder for around the house or office. It will be used for many years.
The instructions below call for using two nails in the base and 2 screws to hold the clothespin on. This is to give the youth experience with both. However, feel free to substitute all nails or screws as you wish.

Let stronger sawers do a diagonal and straight cut and let the weaker, less experienced do two straight. The diagonal cuts are harder especially for children under about 9 years of age.
Using the square and pencil, mark on the wood where you want to make the saw cuts.
Secure the wood in a vise or clamp and saw horse and then cut it on your marks.
Sand the wood smooth.
Clamp the piece with the diagonal cut securely and position the rectangular piece center over it. Then nail the base on.
Take the clothespin apart and position it on the diagonal cut.
Drill holes in the clothespin and the diagonal. Clothespins will split very easily if you don't drill a hole in them first.
If you want to paint the base, now is the time to do it. You can put one screw in and use it to hang the message holder until the paint dries.
Screw one side of the clothespin to the diagonal.
Assemble the clothespin.
Put your name and the date on the bottom with a permanent marker.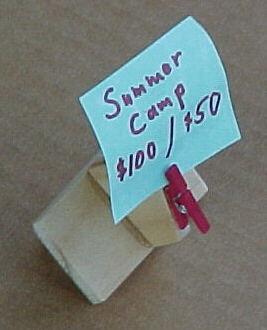 To make a neckerchief slide, use the mini clothespins that are about 1" long. You can find them in craft stores. Use 1" x 1/4" wood for the base. Glue it together using E-6000™. Glue a PVC ring to the back. Use small Post-It™ notes or a scrap of paper to write a reminder for the group.


Copyright © 2005 Vincent Hale