[Title]
[text TOC]
[image TOC]
[Site Search]

[Donation]
| | Paddle Boat | |
| --- | --- | --- |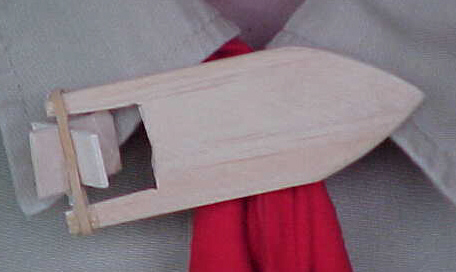 Materials
Tools
3"x1 1/2"x1/4" wood
Large craft sticks
1"-2" Rubber band
Velcro™
PVC Ring
Saw
Sandpaper
E-6000™ glue
Clamp or vise
Cut the notch in the stern of the boat. The arms should be about 1/4" thick. This is best done with a scroll saw. Be careful not to break off the arms as you are cutting them out.
Cut notches on each arm to hold rubber band.
Cut the bow into a rounded or pointed shape.
Sand the edges smooth.
To make the paddle, cut two pieces from the large craft sticks (tongue depressor) about 1/2" long.
Make a cut half way through both of the pieces of the paddle. Use a narrow saw blade. The two halves should slide together tightly. If they are too tight, use sandpaper to widen the gap. If they are too loose, use E-6000™ glue to secure them.
Attach one side of the piece of Velcro™ to the boat and the other to the PVC ring.
Place the rubber band around the paddle and the two arms as shown in the photo.
To run the boat, remove the PVC ring, and wind the paddle up. Don't wind it too tightly or the rubber band may break. Hold the paddle so it doesn't unwind and carefully place in a bathtub of water. Release the paddle and watch it go!
A boat this size doesn't work too well. It's too hard to find rubberbands the right size. It is much better if the boat is 3" to 4" wide. You can then use a larger rubberband and paddle.


Copyright © 2004 Vincent Hale