[Title]
[text TOC]
[image TOC]
[Site Search]

[Donation]
| | Folded Newspaper | |
| --- | --- | --- |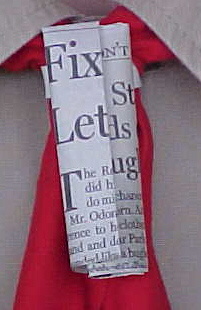 Materials
Tools
5"x12" newspaper
PVC Ring
Hot Glue
Scissors
This is much easier to demonstrate than to describe in words, so good luck.
Cut from the bottom of a page of newspaper.
Fold the long side in half.
Fold the long side in half again.
Now fold the top half down. This gives you the shape that will be folded like a paperboy.
Fold the paper in half and then unfold it.
Fold the right side quarter in to the middle.
Now fold the right side over. At this point, you should have 3 layers rolled on the right side and one on the left.
Spread the front and back of the left side open and slide two of the right side folds into the left side. You'll have to work and bend and twist the paper a bit to get it to cooperate.
You may have to add a drop of hot glue to get the paper to stay in place.
Hot glue a PVC ring to the back.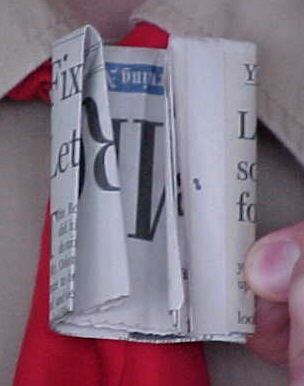 Copyright © 2004 Vincent Hale