[Title]
[text TOC]
[image TOC]
[Site Search]

[Donation]
| | Holly with Candle | |
| --- | --- | --- |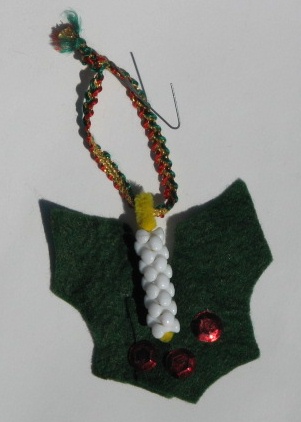 Materials
Tools
3" x 3" green felt
3 large red sequins
12 white tri-beads
3" gold chenille
PVC ring or 10" ribbon
Hot glue
Scissors
Knife
Pen
See the Miscellaneouse section for more instructions, hints and tips.
Here's a quick and easy one that young children can make with just a little supervision.
You can use either yellow or gold chenille.
Using a pen, draw two holly leaves on the felt. Make the edges with large scallops forming a point between scallops. Cut the leaves out. Try to cut inside the lines.
Glue the leaves together at their bases with hot glue. Put the pen marks on the same side and use that as the back so the lines don't show.
Glue on the sequins by putting a small drop of hot glue on the leaves and placing a sequin on it.
Assemble the candle. Bend the end of the chenille forming a loop at the top for the flame. Add the beads to the chenille.
With a knife, poke a small hole in the leaves about in the middle of where they overlap. Insert the end of the chenille into the hole and hot glue it to the back of the leaves. Bend the candle so it stands straight up.
If you want to make a neckerchief slide, hot glue a PVC ring to the back of the leaves.
If you want to make an ornament, put an ornament hook through the chenille loop that forms the flame of the candle or run a ribbon or string through the loop and tie a knot in it.


Copyright © 2009 Vincent Hale