[Title]
[text TOC]
[image TOC]
[Site Search]

[Donation]
| | Clothespin Rudolph | |
| --- | --- | --- |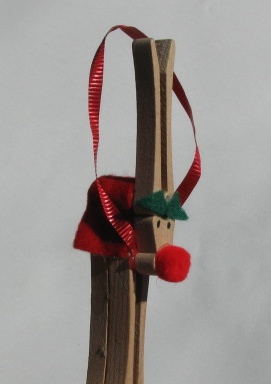 Materials
Tools
3 Clothespins
1/2" x 1/2" Green felt
1" x 3" Red felt
3/8" Red pompom ball
3/8" White pompom ball
PVC ring or 10" ribbon
Black permanent marker
Hot glue
See the Miscellaneous section for more instructions, hints and tips.
This is a quick and easy project.
Use standard size or mini clothespins which are available in craft stores.
For the nose you could use a piece of red felt cut in a circle. For the tail you could use a small cotton ball.
The eyes could be drawn on with a permanent marker or use wobble eyes.
Cut out triangles for eyebrows from the green felt and hot glue them in place.
Make the eyes with either wobble eyes or a permanent marker.
Glue on the nose.
Glue the other two clothes pins together.
Cut the red felt to fit like a saddle. Glue it in place and trim off any excess that is hanging over the edges.
Glue on the tail.
To make an ornament, hot glue a 10" ribbon or string in a loop onto the back of the head.
Put a glob of hot glue on the front of the body and glue the head and body together.
If you want to make a neckerchief slide, don't glue on the ribbon, but hot glue a PVC ring to the side of the body.


Copyright © 2009 Vincent Hale