[Title]
[text TOC]
[image TOC]
[Site Search]

[Donation]
| | Beading | |
| --- | --- | --- |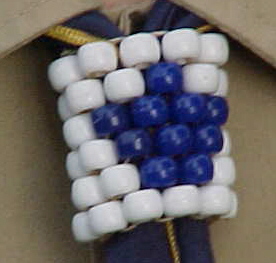 This is a Native American Indian craft. A Boy Scout who was part Indian at Camp Davy Crockett in Tennessee taught it to me.
This is a very strong slide. It would make a good slide for a special occasion like a BLue and Gold Banquet.
Materials
Tools
48 Pony Beads
5' String/sinew
Tacky Glue
The end product reminds me of stacked bricks. It is a little difficult to get started, but once you get the hang of it, it's easy. Use the blank pattern below to draw your own picture. The instructions below are for creating a 6 row by 8 column banner like the one in the picture.

Tie a small stick or an extra bead loosely to one end of the string. (You will be untying this later.)
Put 6 beads on the string to make the first two columns. Beads 2, 4, and 6 make up the first column; beads 1, 3, and 5 make up the second column.
Put on one more bead (7).
Pull string through bead 5. See illustration below.
Put on another bead (8).
Pull string through bead 3.
Put on another bead (9).
Pull string through bead 1.
Put on another bead (10).
Pull string through bead 9.
Continue until all beads have been put in place.
Now join the first column to the last column by weaving the string between the beads in the first and last columns. The two columns should line up so they interlock.
Untie the stick and tie the two ends together with a square knot. Add a drop of glue to the knot to lock it in place.
Cut off any excess string.
This project can be made with other sized beads. You will have to judge the number of rows (has to be even) and the number of columns to fit the neckerchief properly. If you make it too big, consider adding a PVC ring to the inside. Make your design using the blank pattern sheet below. Mark off the columns as you complete them. Make the first and last two columns the same color and put them in the back of the project.

Beading can also be used to decorate a walking staff or ceremonial stick.


Copyright © 2001 Vincent Hale