[Title]
[text TOC]
[image TOC]
[Site Search]

[Donation]
| | Kite | |
| --- | --- | --- |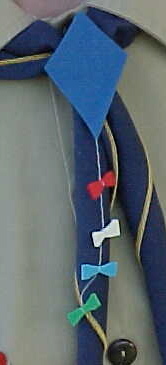 Materials
Tools
Foam
String/Thread
"D" PVC Ring

Optional:
Paint/Markers
Hot Glue
Scissors
Cut diamond shape out of foam.
Cut several bow shapes out of foam. Start with a small rectangle then cut triangles from the two long sides.
Tie bows onto string using an overhand knot. Put a dab of hot glue on knots to hold them in place.
Hold string in place on back of kite. Hot glue and trim away excess.
Hot glue ring onto back of kite.
Decorate the kite with markers or paint if desired.


Copyright © 2001 Vincent Hale