[Title]
[text TOC]
[image TOC]
[Site Search]

[Donation]
| | Puzzles | |
| --- | --- | --- |


Materials
Tools
1" x 5" leather
8" sinew or heavy string
2 1" buttons
PVC Ring
Knife
Ruler
Hot Glue
See the Leather Chapter for more instructions, hints, tips, and ideas.
Cut 2 lines in the rectangle of leather about 3/8" apart.
Cut a 1/2" hole below them. The hole needs to be slightly larger than the middle section of leather.
Thread the string or artificial sinew as shown and tie a button to each end. Put a drop of super glue or white glue on the knot to hold them in place.
The key to making this puzzle is the size of the hole. The hole needs to be WIDER than the center strip of leather and much SMALLER than the buttons. 3/4" buttons can be slid through the hole. Also, using thin leather makes it easier to work. You can use 1" dowel rod instead of the buttons.

The solution is to bend the middle strip of leather so that it slides through the hole. Then the string and buttons can be easily removed.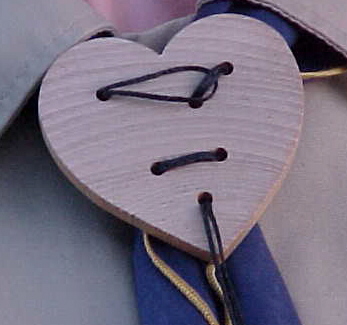 Materials
Tools
Leather Heart
PVC Ring
26" string or artificial sinew
Washer
Hole Punch
Scissors
Hot Glue
The leather heart shape is about 2 1/2" wide and available in leather or craft stores. Wooden hearts could also be used, but then you would have to drill the holes.
Punch 3/16" holes in heart as shown.
Fold the string in half.
Take the middle of the string and place it around hole #3. Then run both ends of the string into hole #1, out of hole #2, through the loop of string and into hole #3, out of hole #4, into hole #5, out of hole #6.
Tie the washer onto the string using an overhand knot.
The key to making this puzzle work is to have the string long enough to loop back through the holes.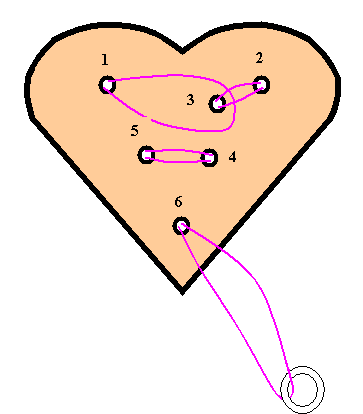 The solution is to work all the slack near the washer back up to the loop around hole #3. Do not twist the string as you do the following. Thread the loop back through hole 3, out of hole #4, into hole #5, and out through hole #6. Then slip the washer through the loop. Finally, pull the loop back out of holes #6, 5, and 4 and the loop will be off.
To reset the puzzle follow the above instruction in reverse. Take the loop back through holes #3, 4, 5, and 6, loop it over the washer, then thread it back through holes #6, 5, 4, 3. You may find it easier to reset the puzzle by untying the string and threading it over from the start. If you number the holes on the back of the puzzle, all you have to do is follow the numbers in sequential order.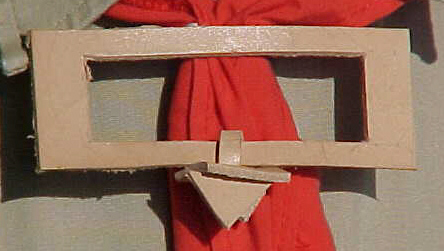 Materials
Tools
1" x 4 1/2" thin leather
PVC Ring
Knife
Ruler
Hot Glue
Cut out the three shapes as shown below.
Hot glue the PVC ring to the middle of the long edge of the large frame.

The keys to making this puzzle are:
Use leather that is thin and flexible
Make the hole of the small frame large enough to fit over the middle of the two arrows, but not large enough that it can be slipped over the arrowhead
Make the band between the two arrowheads long enough to easily loop over the large frame.


To set the puzzle, bend the large frame in half. Slide the small frame over both sides of the bottom of the frame. Then loop the arrows over ONE of the bottom sides as shown below.




Finally, slide the small frame over the loop between the two arrowheads and unfold the large frame.




To solve the puzzle, simply follow the instructions above in reverse order.


Copyright © 2003 Vincent Hale