[Title]
[text TOC]
[image TOC]
[Site Search]

[Donation]
| | Easy Leather Pouch | |
| --- | --- | --- |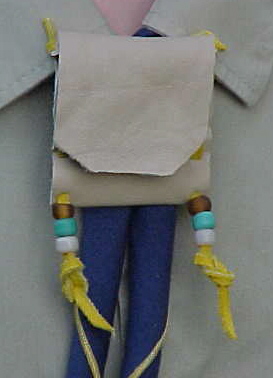 See the Leather Chapter for more instructions, hints, tips, and ideas.
Native American Indians carried their special possessions in a small pouch like this.
Materials
Tools
2 1/2"x9" Leather Fabric
3' Leather Lacing/Waxed thread
Mallet
Nail
Wooden block
Glue
PVC Ring
If you are using leather lacing, cut the end at an angle and put a couple drops of superglue on it to make needle. Make sure the nail is large enough that the lacing will fit easily through the holes.
If you use waxed thread, you will need a large eye needle. These can be found at leather supply stores.
Choose a nail that is large enough for the lacing to easily pass through.
Punch holes for lacing.
Fold 3" of the leather up to form the pouch. As illustrated below.





Punch holes through both layers of the leather every 1/2" using the nail. Try to make the holes evenly spaced. Do the same thing to the other side.
Now open up the pouch and make the four holes for the belt loop. These should be near the top and bottom of the back. See the illustration below.





Next make the belt loop. You can also add a PVC ring to make a neckerchief slide.
Poke lacing from the inside out through one of the top holes. Put on a PVC ring.
Thread lacing in through the bottom hole below the top hole.
Thread lacing out through other the bottom hole. Thread lacing through the PVC ring.
Thread lacing in through other the top hole.
Tie lacing ends together using a square knot. Lacing should be a little loose so a belt can slide easily through.
Cut off excess lacing.


Now lace up the sides.
Tie an overhand knot at the end of the leather lacing.
Start at the top and poke lacing through first hole from the back. Go through both layers of leather.
Either poke lacing down through next hole or go around edge and poke up from the bottom. If you are using waxed thread, you can tie the end of the thread to this first loop.
Continue until all holes on one side are finished.
Add beads to the lacing if you want. Tie a knot in the end. You don't want the lacing to be so tight that it causes the leather to bunch up or too loose that your treasures will fall out.
Cut off excess lacing.
Now repeat the process for the other side.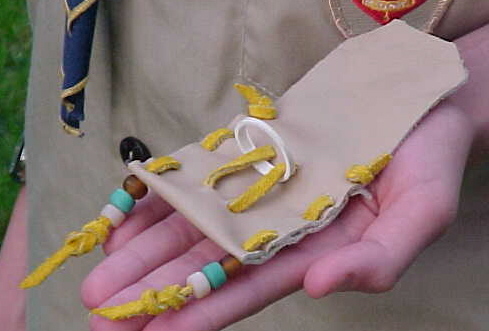 Copyright © 2001 Vincent Hale