[Title]
[text TOC]
[image TOC]
[Site Search]

[Donation]
| | Embossed Cross on Heart | |
| --- | --- | --- |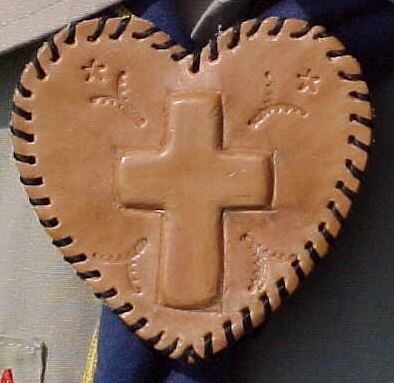 Materials
Tools
2 pieces stamping leather (rounders) less than 1/8" thick
2 3/4"x1/2" piece of scrap leather for loop
Image to be raised
Lacing or waxed thread
Rubber cement
Leather tools
See the Leather Chapter for more instructions, hints, tips, and ideas.
For this project, pick an attractive simple shape such as the outline of your state, your initials, cross, heart, or arrowhead. Cut the object out of leather or poster board. Glue the object to the back of one rounder using rubber cement (make sure it is centered).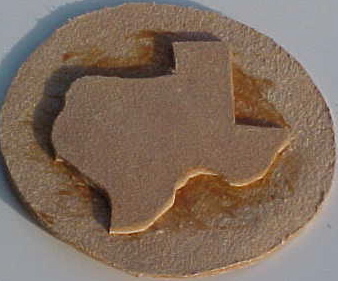 Glue shape to back of rounder

After the glue has dried, use your fingers to outline the shape of the object. Moisten and stamp if desired. Now wet the leather well. Highlight the outline of the object using a modeling tool.

Cut two slots, insert leather strap, Punch some holes in the ends of the loop and use a brass fastener to make it adjustable. Glue the two rounders together using rubber cement.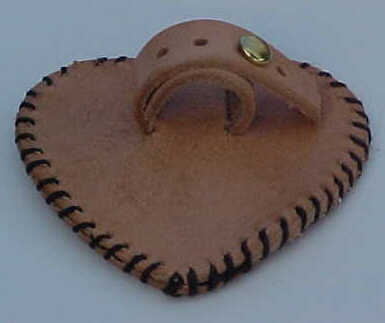 Attach adjustable loop
Now, you must decide how the edge is to be finished. The edge finish is like the frame of a painting. It can be left plain, stamped with decorative shapes, or use lacing/thread. If you want to finish the edge with lacing or thread, punch slits for the lacing using the fork shaped tool. The lacing is wrapped around the edge and through the slits. The thread is run form one slit to another. See these directions for how to do lacing.
Paint if desired. Seal the leather with "Super Sheen."
Cut out object
Glue to back of rounder
Outline
Moisten and stamp
Wet leather
Highlight outline
Cut slits in back of 2 rounder
Punch slits for lacing
Glue on scrap for ring
Decorate stamp edge, lacing, paint, seal





Copyright © 2001 Vincent Hale