[Title]
[text TOC]
[image TOC]
[Site Search]

[Donation]
| | Glow in the Dark Cross | |
| --- | --- | --- |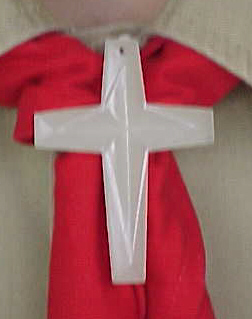 &nbsp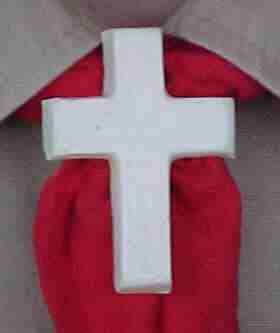 See the Found Chapter for more instructions, hints, tips, and ideas.
This is a very simple idea, but the story that goes along with it is so powerful that I just had to share it.
I'm not sure where this originated, but I heard it while attending summer camp at Tom Hale Scout Reservation in Oklahoma during 2004.
The crosses can be purchased or make your own by painting a wooden cross or a plaster candy mold cross with glow in the dark paint.
After the cross is exposed to bright light, it will glow in the dark for a while, but will slowly fade. It will need to be "recharged" again to keep it glowing. The brighter the light and the longer the exposure, the brighter the cross will glow.
The cross represents us, the light is Christ - the light of the world. When we are exposed to the teachings or the light of Christ, we glow because his presence in us is strong. But as time goes on, we fade and become dim until we are exposed to the light of Christ again. Then we are renewed, energized, charged, and the light of Christ can be seen in our words and deeds.
In order to keep glowing brightly, we need to frequently be exposed to Christ. That exposure could come in the form of prayer, reading the Bible, attending church services, participating in church study group, or simply talking about God with others.
Whatever you decide to do, do it frequently and don't let the light of Christ fade in you.


Copyright © 2004 Vincent Hale