[Title]
[text TOC]
[image TOC]
[Site Search]

[Donation]
| | Candy Molds | |
| --- | --- | --- |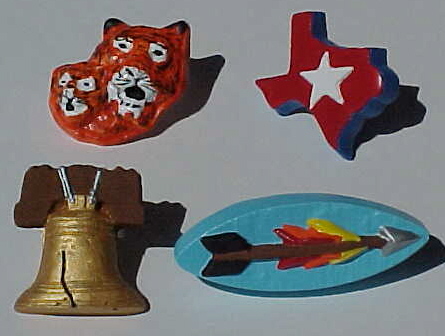 Materials
Tools
Plaster of Paris
Cup
Spoon
Molds
Rings
See the Plaster Chapter for more instructions, hints, tips, and ideas.
Candy molds are easy to use and come in a wide variety. There are molds for Christmas, Easter, Texas, dinosaurs, angels, sports, cowboys, and many available from BSA. They are widely available in craft stores or stores that sell kitchen gadgets.
Cub Scouts have candy molds for the various ranks and pinewood derby. These make good activities to keep Cub Scouts busy while parents get the event organized and run. For Blue and Gold make the badge of rank with plaster of paris colored with tempera paint or food coloring (because the badges would be too difficult to paint). They can be used as napkin rings also. For Pinewood Derbies make the plaster slides white and let the boys paint the cars themselves.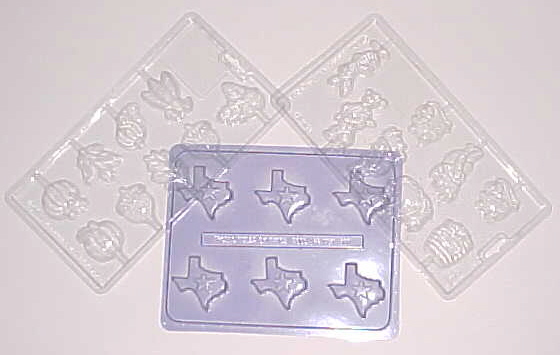 Be sure to have plenty of PVC rings available when you start. Use 3/4" PVC rings. Also, have some extra molds available to use up any extra plaster.
See the instructions for mixing plaster. Mix the amount of plaster that you will need and pour it into the mold. Be sure to tap the mold to remove bubbles. Then add a PVC ring (be sure that the ring in oriented correctly). Move the ring back and forth so that the plaster goes inside the ring. Wait for the plaster to set up, checking periodically to make sure the ring is still straight. Remove the object from the mold and allow it to completely dry and harden. Then you can paint it with acrylic paints. Be sure to paint the back so the plaster doesn't come off on you neckerchief.


Copyright © 2001 Vincent Hale