[Title]
[text TOC]
[image TOC]
[Site Search]

[Donation]
| | Cross with Candle | |
| --- | --- | --- |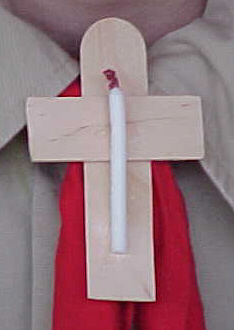 Materials
Tools
Large craft stick (tongue depressor)
White candle
PVC ring
Saw
Sandpaper
Hot glue
White glue
Glitter - red or gold
See the Candles Chapter for more instructions, hints, tips, and ideas.
This is a simple neckerchief slide to make. It can be used to take up time while waiting for a candle to cool.
The candle is a symbol of Jesus, the Light of the world. This slide is a great one to wear around Easter.
Cut the rounded part from one end of the craft stick.
Cut the remaining stick about 2" from the straight end. The long stick will be about 3 3/8".
Hot glue the cross beam (short stick) to the front of the long stick. Keep the rounded end of the long stick at the top.
Dip the candlewick into some white glue.
Sprinkle the glue with red or gold glitter. This makes it look like the candle is lit.
Hot glue the candle to the vertical stick. Use two spots of glue - one at the top of the candle and one at the bottom.
Finally, hot glue the PVC ring to the back of the cross.
If you are looking for another craft to take up some time while waiting for wax to cool, try making God's Eyes. They don't take much preparation or supervision and everyone loves to make them.


Copyright © 2004 Vincent Hale