[Title]
[text TOC]
[image TOC]
[Site Search]

[Donation]
| | Christmas Candle Centerpiece | |
| --- | --- | --- |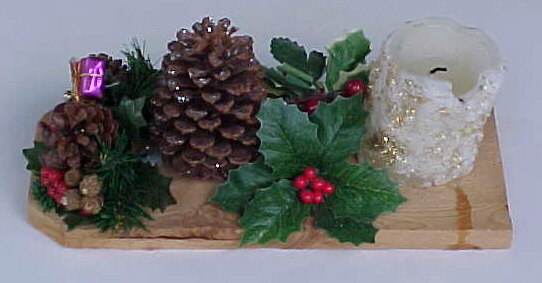 Materials
Tools
12"x6"x1" cedar
3" screw
Molded candle
Decorations
4 felt pads
Hot glue
Drill
Screwdriver
Scissors
Lighter
See the Candles Chapter for more instructions, hints, tips, and ideas.
Cedar fence slats do nicely for the wooden base, but any wood will do. The cedar is usually rough looking and has a nice smell.
The felt pads are for the bottom of the base to keep it from scratching the table. You can cut out four squares 1/2" to 1" from felt purchased at a craft store.
The screw should have a flat head. This type of screw does not stick out above the wood. This will prevent it from scratching the surface of the table.
The lighter is used to heat the nail to mount the candle. This could really be any type of heat source that can be applied to the screw after it is in the board. Other things you might use are a blowtorch or a candle.
Craft stores will carry a variety of items that you can use for decorations: bows, holly leaves, fall colored leaves, flowers, fruit and berries, nuts, seed pods, and plastic Christmas figures. Most craft stores have big sales of these items right after Christmas, so if you can plan a year in advance, you can get some great deals. You will probably need several items to sufficiently cover the wooden base.
You can use a store bought candle or a plain molded candle or one decorated with whipped wax foam or decorative wax shapes. The one in the photo is about 4" tall and 2" in diameter and made using a soft drink can as the mold.
Cut 4 pieces of felt and hot glue them near the corners of the bottom of the wooden base.
Decide where you want the candle to stand on the base, drill a hole there, and twist the screw into place. The head of the screw should be even with the bottom of the wood.
Get the end of the screw very hot using the lighter for about 20 seconds. Set the base on a flat, heat resistant surface and quickly push the candle all the way onto the screw making sure that the candle sits flat on the wooden base. CAUTION: The head of the screw on the opposite side of the wood will get VERY HOT also.
If you want, hot glue another piece of felt over the screw head.
Place the decorations on the wooden base and arrange them until you are satisfied. Then use hot glue to attach them to the wooden base.


Copyright © 2004 Vincent Hale