[Title]
[text TOC]
[image TOC]
[Site Search]

[Donation]
| | Braiding | |
| --- | --- | --- |


Braiding is a lot of fun. It can be done with children from about the age of 10. It can be used to occupy their time during a trip or to fill in time while others are doing another activity.
They also look good. Wear them to special occasions like Blue and Gold Banquets.
Try making these with rope, parachute chord, or clothesline for larger projects.
Braiding plastic can be found in leather and craft store. It is available in a wide variety of bright colors, metallic colors, metallic sparkles, multi-colored, and even glow in the dark! The most widely available style is flat and about 1/8 inch wide, but 1/4 inch is sometimes available. It can also be found in a thin round style like spaghetti. It is very inexpensive usually about a penny per yard. Any of the projects can be made into key chains or zipper pulls by adding a ring or clip at the very beginning of a project.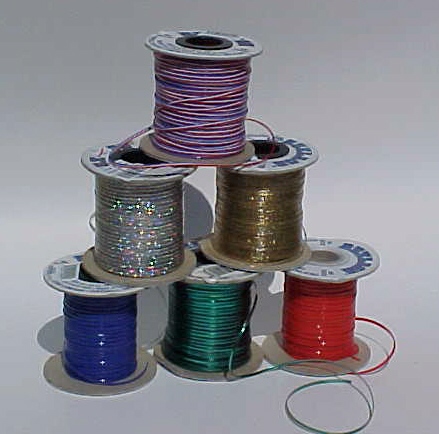 Red/White/Blue
Holographic Sparkle, Gold Sparkle
Blue, Metallic Green, Red
Start with a simple straight braiding. After you have mastered that, move on to spiral, and more complicated patterns.
The instructions on the following pages teach how to make 4-end straight, 4-end spiral, and 6-end straight braiding. The directions are meant to not only tell you how to do the braiding, but why you do it that way. By explaining it in this manner, you can apply what you know to make more complicated projects. With these instructions, you should be able to do straight and spiral braiding with any number of ends. You can also mix the two to make even more interesting patterns.
For example, to make an item with both straight and spiral stitch, start with spiral stitches, add an even number of straight stitches, then finish with spiral stitches.
To make a V pattern, start with spiral stitches, then add an odd number of straight stitches, and finish with the spiral stitch.
Here are some examples of some of the more advanced items you can make.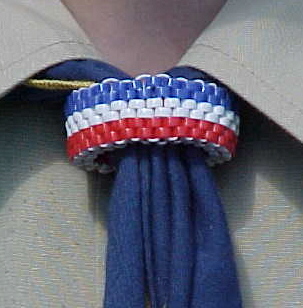 8-End Square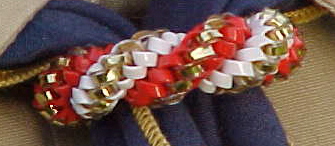 6-End Spiral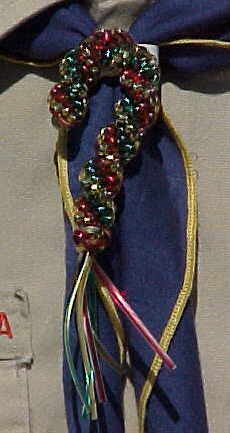 Candy Cane (6-End Spiral)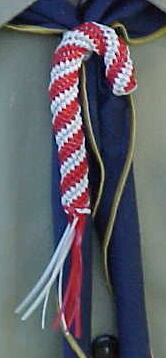 Candy Cane (8-End Spiral 4 by 4)


You can make a variety of neckerchief slides from braiding. Here are some ideas:
Blue and gold 4-end spiral for the Cub Scout Blue and Gold Banquet
Red, white, and blue 6-end spiral for any United States holidays
Any combination of red, green, gold, blue for Christmas
Red and white 4-end spiral candy cane for Christmas
You can make about a 3 inch braid of any pattern and color and tie the ends together to make a very attractive neckerchief slide that will stand up to a lot of punishment. They don't take long to make and I have even heard of people selling them at summer camp! I always carry one in case the slide I'm wearing breaks.
To tie the ends together, slip the loose ends under the loops of the beginning as best you can, pull them tight, and tie in a square knot. Tie the other loose ends. A drop of Superglue will lock them tight. Cut off any excess plastic.


Copyright © 2001 Vincent Hale