[Title]
[text TOC]
[image TOC]
[Site Search]

[Donation]
| | Hummingbird Ant Moat | |
| --- | --- | --- |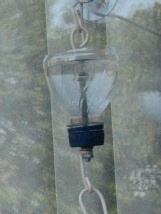 Materials
Tools
Empty drink bottle
1/4"x 3" bolt
3 nuts
4" stiff wire
Drill
Knife
E-6000 glue
Needle nose pliers
See the Activities section for more instructions, hints and tips.
Here are some more ideas to help you enjoy hummingbirds.
If you have trouble with ants, they'll also bother the hummingbirds. They'll avoid feeders with ants or bees. Making a moat from a plastic bottle is very easy. Ants don't swim, so keep the moat filled with water.
Hummingbirds may even take a drink of the water from the ant moat.
The top part of a bottle is easier to use because the lid unscrews and it is easier to work with. You can use the bottom of the bottle, it's just a little awkward to apply the glue.
You can use an eye bolt instead of a regular bolt to make it easier.
Cut the bottle about 3" down from the lid. You could also use a small cup 2-3" tall and 2-3" in diameter.
Take the lid off and drill a hole slightly smaller than the bolt in the center of the lid.



With 2" of wire, bend a loop tightly around the bolt and then form a hook on the other end.
Put the first nut 3/4" onto the bolt.
Screw the bolt into the inside or bottom of the lid, apply a thick bead of E-6000 all around the bolt. Tighten the nut down into the glue on the inside of the lid. You want to make this seal water tight so use plenty of glue.
Apply a thick bead of glue on the bolt where it comes out of the top of the lid and tighten with a second nut. Secure the lid in place between the two nuts. You want them tight so the bottle won't move.
With 2" of wire, bend a loop and wrap it tightly around the bolt. Then form a hook on the other end.
Put on the third nut to hold the bottom hook in place. Secure it with some E-6000 glue to prevent the nut from coming off.
Multiple feeders can be hung from each other from one moat.


Copyright © 2012 Vincent Hale