[Title]
[text TOC]
[image TOC]
[Site Search]

[Donation]
| | Snowman | |
| --- | --- | --- |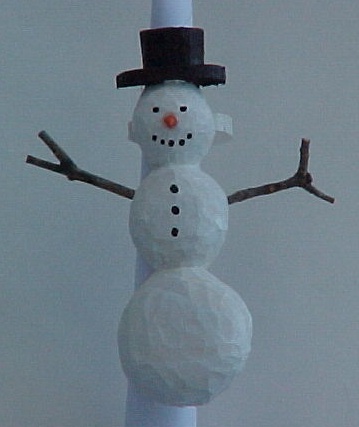 Materials
Tools
3 1/2"x1 1/4"x3/8" Basswood
2 twig arms
PVC ring
Compass
Carving Knife
Saw
Paint and brushes
Wood Glue
E-6000™ Glue
See the Wood Carving section for more instructions, hints and tips.
Draw a centerline on the wood in the direction of the grain.
Layout the perimeter. The hat should be about 1/2" high, the head 3/4"(3/8" radius), the upper body 1" (1/2" radius), and the lower body 1 1/4" (5/8" radius). The snowman in the photo was made to these dimensions but looks a bit tall and thin. For a shorter, fatter snowman just make the circles larger and overlap them more. The overall height should be 3" to 3 1/2".
Cut it out using a scroll or coping saw.
Note: if the compass point made a deep hole then carve the opposite side of the snowman.
Make a stop cut at the bottom of the hat along the brim.
Make a V cut between the head and upper body.
Make another V cut between the upper and lower body.
Round the snowballs. The easiest way to round them is to first make a 45 degree cut, and then make a cut above and below that. Round them all the way to the center. Continue until it smoothes out to your satisfaction. Watch out when making vertical cuts with the grain, the wood will tend to break. Carve it from the side or the center instead.
Make a stop cut along the top of the brim.
Take the top of the hat down about 1/8".
Round out the top of the hat and the brim.
Carve a carrot nose from a scrap piece of wood or branch. Use a 3" dowel or stick. This will give you something to hold onto. Cut the carrot off by holding the knife on the stick at the point to separate. Rotate the stick while pushing down with the knife.
Glue the carrot nose in place with wood glue.
Glue a PVC ring to the back using E-6000™ to make a neckerchief slide or use a push pin to help hold it.
Paint the snowman white and the carrot orange.
Once the paint has dried, paint the hat black. Use a toothpick to make the coal spots for the eyes, mouth, and buttons.
Glue twigs as arms to the back of the middle snowball with E-6000™.


Copyright © 2008 Vincent Hale