[Title]
[text TOC]
[image TOC]
[Site Search]

[Donation]
| | Knife | |
| --- | --- | --- |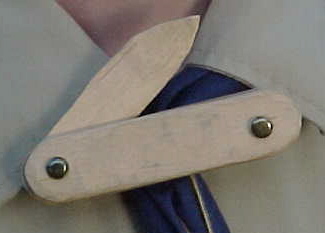 Materials
Tools
12" x 1" x 1/8" Wood
2 brass fasteners 3/4"
PVC Ring
Saw
Knife
Clamp
Sandpaper
Drill
Hot Glue
See the Wood Carving section for more instructions, hints and tips.
This is a handy prop for teaching youth about knives. It could easily be made by youth from poster board.
You can demonstrate proper opening, closing, and handling techniques. While opening a knife do not put anything over the top of the handle in case the blade should slip and close. Close a knife with the palm of your hand. When handing a knife to another person, make sure knife is closed, let other person grab hold of knife, other person says "Thanks you" indicating they have control of the knife (if it is dropped then it is the other person's fault), you let go.
Some knives can be difficult to open and you have to open it for the youth. In this case, open the knife and set it on a convenient surface so they can pick it up. Never hand an open knife to another person.
Cut wood into three equal pieces 4" long.
Carve two sides like in photo.
Carve blade. The blade should be about 7/8" tall and 3 3/4" long. You may want to carve a notch at the top of the blade to help open it. Don't worry too much about the shape of the point of the blade; you will have to adjust it later after the knife is assembled.
Sand parts to desired smoothness.
Clamp the two sides together and drill holes through them near the ends.
Position the blade between the two sides and drill one hole through the base of the blade, using the hole in the side as a guide.
Insert brass fasteners into the holes and bend them over. Adjust them so the blade moves smoothly.
Now finish carving the tip of the blade. The blade should fold almost completely between the sides and rest on the brass fastener.
Drill holes through the two sides near the ends.
Hot glue a PVC ring to the back.


Copyright © 2003 Vincent Hale