[Title]
[text TOC]
[image TOC]
[Site Search]

[Donation]
| | Funny Putty | |
| --- | --- | --- |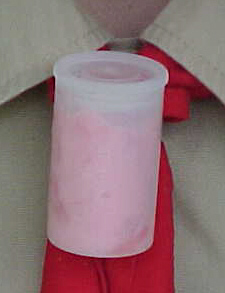 &nbsp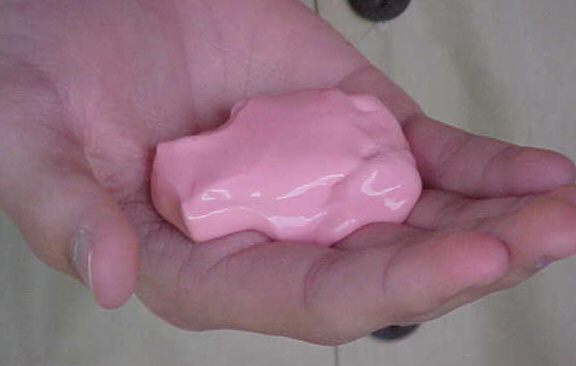 See the Science Chapter for more instructions, hints, tips, and ideas.
These are a lot of fun to make. They are a little bit messy. Don't use cheap white glue, as it is usually watered down and will just make a mess.
Fluids like water are Newtonian fluids - they act normal. The putty recipes here are examples of non-Newtonian fluids which means that they behave strangely. When you move them fast like hitting them or pulling them apart quickly, they behave like a solid. If you hold them still or move your fingers slowly, they behave like a liquid. If you pull a non-Newtonian fluid apart quickly it will break, pull it slowly and it will stretch. Quicksand is another example of a non-Newtonian fluid.

Recipe 1
Materials
Tools
1 Tablespoon water
1 Tablespoon white glue
4 teaspoons hot water
1/4 teaspoon borax
Food coloring
Clear film canister
PVC ring
Measuring spoons
Spoon
2 dishes
E-6000™ glue
Borax can be found with the laundry detergents in most grocery stores.
Pour the hot water and borax into one bowl and stir until the borax dissolves completely. Add food coloring if desired.
Into the second bowl, pour the other water and glue. Stir until mixed.
Pour the glue into the borax and stir a few times.
Lift the putty from the water and knead it a few times.
You can store it in a film canister. The kids will LOVE the funny noises that can be made trying to stuff it into the small canister.
This is a good recipe. The putty turns out very slimy, bouncy, and elastic. Be careful not to get it on fabric.

Recipe 2
Materials
Tools
2 Tablespoon white glue
1 Tablespoon liquid starch
Food coloring
Clear film canister
PVC ring
Measuring spoons
2 Dishes
E-6000™ glue
This recipe is a bit tricky. It's hard to get it just right. If the putty is too sticky, add some more starch. If it won't stick together, add some more glue. Also, it seems to need to dry out some before it gets to the right consistency.
Pour the glue into one bowl. Mix in the food coloring, if desired.
Pour the starch into the other bowl.
Slowly pour the glue into the starch and stir it.
When it gets so that it isn't too sticky, remove it from the bowl and knead it.
This recipe is a lot like Silly Putty™, but is stickier. Store it in a clear film canister when not in use. It will go bad after a few days. Be careful not to get it on fabric.


Copyright © 2004 Vincent Hale