[Title]
[text TOC]
[image TOC]
[Site Search]

[Donation]
| | Taco | |
| --- | --- | --- |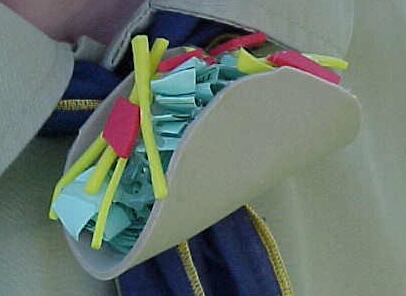 Cut 4" diameter circle from tan craft foam for taco shell.
Cut thin strips of yellow craft foam for shredded cheese.
Cut irregular shapes of red craft foam for tomato.
Tear green paper into irregular shapes and wad up for lettuce.
Fold taco shell in "U" shape.
Using hot glue, attach cheese to bottom, then tomato, and finally lettuce on top.
Make sure sides of taco are held in place, if not put on more hot glue.
Hot glue a PVC ring to the back.


Copyright © 2003 Vincent Hale