[Title]
[text TOC]
[image TOC]
[Site Search]

[Donation]
| | Rocket | |
| --- | --- | --- |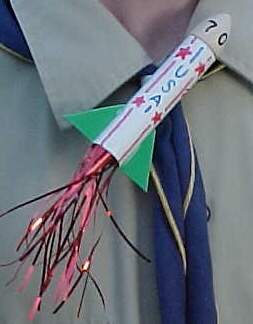 Materials
Tools
3" tube of 1/2" PVC
1" diameter ball of clay
2" x 2" Craft Foam
Tinsel
PVC Ring
Permanent Markers
Hot Glue
Scissors
The clay is used for the nose cone. You could make it out of a 1" x 5/8" piece of dowel rod.
Use red and gold tinsel for the flame coming from the rocket. These are available in craft stores.
Shape the nose cone from either clay or wood and glue it into the PVC tube.
Make the fins. Cut the square of foam in half making two rectangles. Cut the rectangles diagonally making four fins. (Note that you only need three fins - don't put a fin on the side that will be against your shirt.)
Glue tinsel to make the flame. Trim to desired length.
Glue on the fins.
Glue the PVC ring to the back (the side where the fin is missing).
Decorate the body of the rocket with the permanent marker.


Copyright © 2003 Vincent Hale