[Title]
[text TOC]
[image TOC]
[Site Search]

[Donation]
| | Reindeer | |
| --- | --- | --- |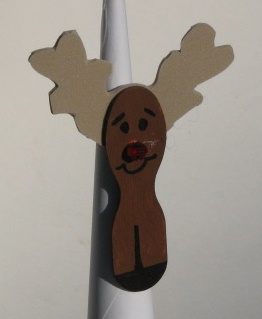 Materials
Tools
Ice cream wooden spoon
3" x 2" tan craft foam
1/4" x 8" green ribbon
2 Wobble eyes
1/4" red pompom or bead
PVC ring
Brown paint
Paint brush
Pen
Scissors
Black marker
Hot glue
See the Miscellaneous section for more instructions, hints and tips.
Paint the wooden spoon with acrylic paint either ahead of time or at the beginning of the meeting.
Use a pen to draw antlers on the craft foam. Use scissors to cut out the antlers. Try to cut inside your lines. Use the side you drew on for the back so your markings don't show as much.
Hot glue the antlers to the back of the large end of the spoon.
Tie a bow with the green ribbon around the neck of the spoon.
Glue on the wobble eyes or draw on the eyes using a black marker.
Glue on the red pompom for a nose or use a red bead.
Draw on the eye brows and a smiling mouth with the marker.
With the black marker, draw hooves on the bottom of the spoon and make lines for the legs.
For a neckerchief slide, hot glue a PVC ring to the back. For a SWAPS, hot glue a safety pin to the back. If you are making an ornament, glue a ribbon or string in a loop on the back of the antlers.


Copyright © 2009 Vincent Hale