[Title]
[text TOC]
[image TOC]
[Site Search]

[Donation]
| | Pinewood Derby Moulding Slide | |
| --- | --- | --- |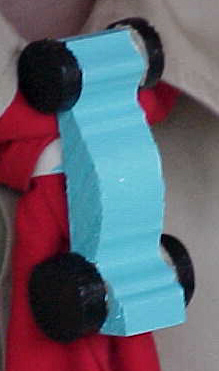 Materials
Tools
1/2"x2" Wood Moulding
4 dowel rod 1/4"
PVC ring
Saw
Sandpaper
Paints and brushes
Hot glue
Wood moulding is available at many home repair stores. Check the yellow pages for other stores that may carry picture-framing materials. The molding needs to be 2" to 2 1/2" wide. Choose a molding that has an interesting wedge shape so it looks like the profile of a racecar.
The dowel rod can be any size (actually a variety of sizes is best - this gives them the ability to customize their car) from 1/4" to about 3/4" in diameter and 1/4" thick.
For each car, you will need about half an inch of molding and four 1/4" wooden dowel rod wheels. It's best to cut these ahead of time.
Sand the four wheels and car body.
Using hot glue, glue the wheels to the molding.
Hot glue a PVC ring to the back. The car can either go horizontally or vertically.
Paint the car and wheels and set aside to dry.


Copyright © 2004 Vincent Hale