[Title]
[text TOC]
[image TOC]
[Site Search]

[Donation]
| | Imaginoid | |
| --- | --- | --- |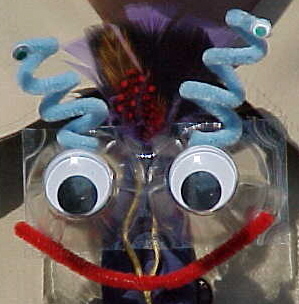 Materials
Tools
Background (optional)
Leftover scraps
PCV Ring
Scissors
Hot Glue
This is the most feared, cutest being in the known universe. This is a good project for the boys to use their creative imagination and use up some of those scraps you have laying around. Give them any scrap craft materials you might have. You might want to include single and double egg cartons (the clear ones are neat), feathers, chenille, wobble eyes, beads, sequins, ribbon, pompoms, bells, felt, foam, pieces of leather, wooden or foam pre-cut shapes, craft sticks, clothes pin, PVC rings, shaped pasta, pasta alphabet letters, brass fasteners, drinking straws, washers, nuts, bolts, screws, wire, rubber bands, string, BBs, wood scraps, craft lacing, and beans or other seeds, and whatever else you can think of. Use hot glue to attach the items and use PVC rings to make them into slides. Be sure to have a variety of shapes and colors. You can use anything that is small and can be obtained in quantity. Check out groceries, craft stores, office supply stores, and home repair stores for ideas. Maybe something that is scraped from your work or a local business (film canisters for example) could be added.
You could turn this into a mad inventor contest. Give the boys bags containing the same materials. See what kinds of neckerchief slides they can create. Give them extra points if they make something that moves!
Any time you are working with a lot of small items and a number of kids, it is tough to keep things neat. Having a lunch serving tray for each boy to work on is ideal. However, a Styrofoam meat tray for each one will help.


Copyright © 2001 Vincent Hale