[Title]
[text TOC]
[image TOC]
[Site Search]

[Donation]
| | Site Usage | |
| --- | --- | --- |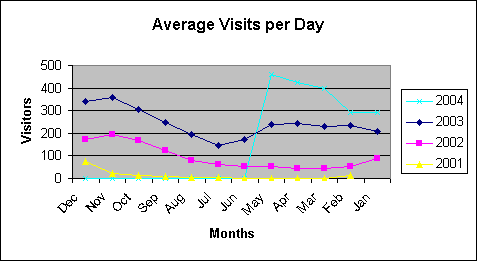 Monthly Site Usage
Since the beginning in February 2001 to June 1, 2004, the site has had more than 183,000 visitors. Last month (May 2004), 462 people visited it every day or more than 14,000 total for the month.
In December 2006, it passed 1,000,000 visitors and is being visited by more than 1,000 people per day.
As you can see from the statistics below it truly is known and used around the world.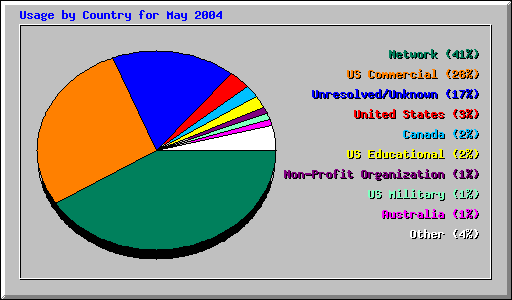 Top 30 of 68 Total Countries
#
Hits
Files
KBytes
Country
1
121088
40.91%
108817
40.95%
1381903
40.10%
Network
2
82464
27.86%
74316
27.96%
977931
28.38%
US Commercial
3
50045
16.91%
45186
17.00%
582414
16.90%
Unresolved/Unknown
4
7575
2.56%
7068
2.66%
86162
2.50%
United States
5
7201
2.43%
6449
2.43%
69216
2.01%
Canada
6
5582
1.89%
5138
1.93%
74750
2.17%
US Educational
7
3580
1.21%
3011
1.13%
38514
1.12%
Non-Profit Organization
8
3403
1.15%
3126
1.18%
43990
1.28%
US Military
9
2854
0.96%
2531
0.95%
35577
1.03%
Australia
10
1311
0.44%
1180
0.44%
16540
0.48%
United Kingdom
11
1285
0.43%
1251
0.47%
13821
0.40%
New Zealand (Aotearoa)
12
1007
0.34%
984
0.37%
9950
0.29%
Japan
13
990
0.33%
959
0.36%
15118
0.44%
Portugal
14
716
0.24%
559
0.21%
11377
0.33%
Greece
15
617
0.21%
478
0.18%
5857
0.17%
Italy
16
543
0.18%
503
0.19%
6289
0.18%
Netherlands
17
519
0.18%
458
0.17%
5369
0.16%
US Government
18
398
0.13%
391
0.15%
11338
0.33%
Saudi Arabia
19
349
0.12%
236
0.09%
3943
0.11%
Argentina
20
341
0.12%
313
0.12%
4627
0.13%
Mexico
21
336
0.11%
324
0.12%
3776
0.11%
France
22
305
0.10%
295
0.11%
4074
0.12%
Sweden
23
282
0.10%
277
0.10%
3061
0.09%
Germany
24
262
0.09%
257
0.10%
2852
0.08%
Brazil
25
239
0.08%
238
0.09%
2023
0.06%
Indonesia
26
238
0.08%
238
0.09%
2276
0.07%
South Africa
27
232
0.08%
221
0.08%
3546
0.10%
Belgium
28
228
0.08%
209
0.08%
3124
0.09%
Singapore
29
193
0.07%
191
0.07%
1645
0.05%
Finland
30
192
0.06%
172
0.06%
2943
0.09%
Israel


Copyright © 2004 Vincent Hale