[Title]
[text TOC]
[image TOC]
[Site Search]

[Donation]
| | My First Slide | |
| --- | --- | --- |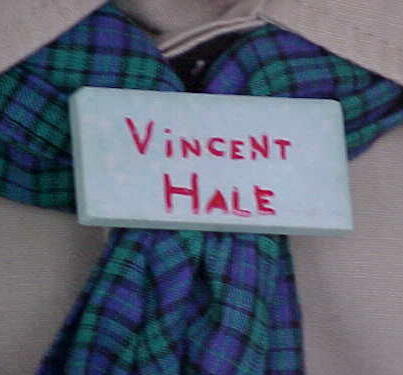 Materials
Tools
Ceramic tile
PVC ring
Paint and fine brushes
Hot glue
This is the very first neckerchief slide I ever made. I made it at a Scout show (maybe called Scout-o-rama) in Louisville, Kentucky somewhere around March of 1967 (could have been 1966 or 1968). I don't remember a lot else about the show except the pinewood derby cars. But at that show the seed was planted. It took about 25 years to sprout and now it is in full bloom!
If anyone has any knowledge of the Scout-o-rama, the troop that helped me make the neckerchief slide, or the troop I belonged to, I'd appreciate hearing from you at

. The neckerchief shown in the photo was my troop's. I don't know the troop's number. As near as I can determine, we met near 44th and Main Street. It would be awesome to meet the folks that helped me make that first slide or the leaders of the troop that I joined for those few months.
The loop for this slide is made of wire and glued on with what looks like white caulking. I remember having to hold the loop in place for a long time.
To make a slide like this, first hot glue (E-6000™ works better) a PVC ring to the back of the tile. Then paint whatever you want on the ceramic tile.


Copyright © 2004 Vincent Hale