[Title]
[text TOC]
[image TOC]
[Site Search]

[Donation]
| | Sticker Ball Spider | |
| --- | --- | --- |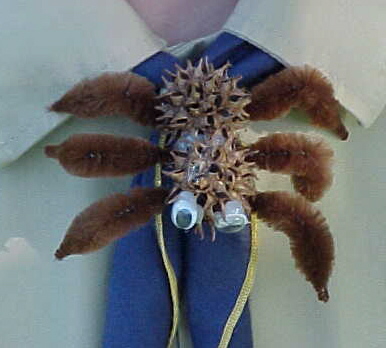 Materials
Tools
2 Sticker balls
1 Chenilles
2 3/8" Wobble eyes
PVC ring
Hot Glue
Scissors
See the Found Chapter for more instructions, hints, tips, and ideas.
The sticker balls come from the sweet gum tree. You can find them in the fall.
Glue sticker balls together. You can use thin chenilles as antenna or if they have stems break one off and glue it next to the other one.
Cut chenille so 2 lumps are on each. Make three of these.
Glue chenilles to bottom of sticker balls.
Glue on eyes.
Bend the legs.
Glue on the PVC ring.


Copyright © 2001 Vincent Hale