[Title]
[text TOC]
[image TOC]
[Site Search]

[Donation]
| | Shotgun Shell | |
| --- | --- | --- |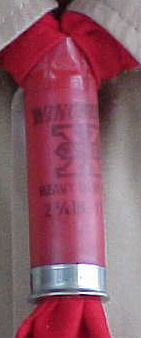 Materials
Tools
12 gague shotgun cartridge

Drill
Vise
See the Found Chapter for more instructions, hints, tips, and ideas.
Summer camp, shooting ranges, hunters are all great sources for empty shotgun shells.
This first slide definitely needs adult supervision.
Secure the shotgun shell in a vise. Use a 1/2" drill bit to drill a hole in the metal base. Be very careful because the drill will try to grab the shell and spin it.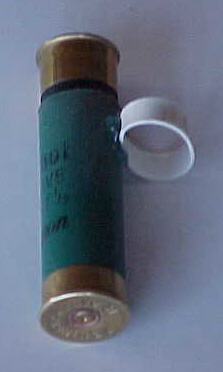 Materials
Tools
12 and 16 gauge shotgun shells
PVC ring
Knife
E-6000™ glue
Make a container for matches, a survival kit, or a special treasure.
A 16-gauge cartridge will slide inside a 12-gauge cartridge. 20-gauge can be used instead of a 16-gauge, but it will be a little loose.
Cut off the crimped end of one or both of the shells with a sharp knife. Stab the cartridge at the crease where the crimp starts. Then saw the knife around the cartridge to complete the cut. Glue a PVC ring to the outer shell.
You can make this waterproof by wrapping it with Duct™ Tape. Wrap it around the inside cartridge if it is too loose or wrap it around the exterior.


Copyright © 2004 Vincent Hale