[Title]
[text TOC]
[image TOC]
[Site Search]

[Donation]
| | Turkey Neck Bone Wolf | |
| --- | --- | --- |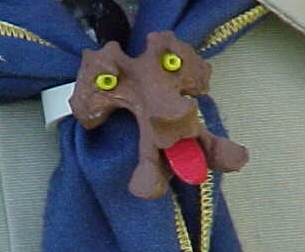 Materials
Tools
Turkey Neck Bone
2 Yellow Seed Beads
Red Paper
PVC ring
Brown Paint
Paint Brush
White Glue
Hot Glue
Toothpick
See the Found Chapter for more instructions, hints, tips, and ideas.
To get the turkey neck bone, start with a turkey neck. There are about seven bones in each neck. The neck has to cook a long time to get to the point where the meat falls off the bone. I like to make a soup while doing this.
Soups are very easy since the ingredients and quantity used are very flexible. In a slow cooker or crock-pot put the turkey neck, about two quarts of water, carrots, celery, salt and pepper to taste. Cook for about 4 hours on high or 8 hours on low.
Pull all the meat off using a fork and your fingers and return meat to soup. You might find a toothbrush helpful in removing the last bits of meat. Let the bones dry good.
Paint the bone brown and let it dry. Use white glue to attach the seed beads as eyes. A toothpick is helpful in positioning the beads. Cut the red paper in the shape of a long tongue about 3/4" long. Glue it inside the mouth with white glue. Hot glue the PVC ring to the back.


Copyright © 2003 Vincent Hale