[Title]
[text TOC]
[image TOC]
[Site Search]

[Donation]
| | Pretzel Candy | |
| --- | --- | --- |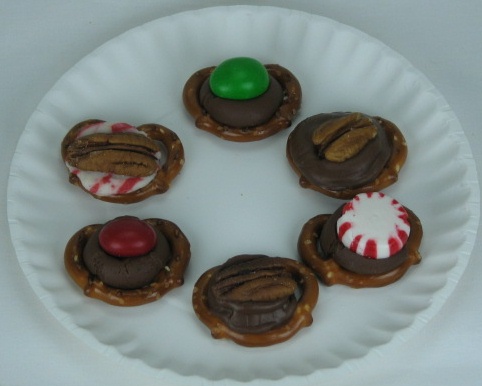 Materials
Tools
Pretzels
Rolo™ candy
Pecan half
Oven
Baking tray
Parchment paper or Aluminum foil
Container
See the Activities section for more instructions, hints and tips.
These are quick, easy, and delicious! Children can help make these with a little supervision. They are great for last minute party snacks or school treats because they are so fast, easy to make, and there is very little cleanup.
A bag of Rolo™ contains about 50 candies which is enough for two trays.
Heat the oven to 250 degrees.
Place the parchment paper or aluminum foil on the baking tray.
Position the pretzels on the parchment paper, spacing them about 1" apart.
Place a candy in the center on each pretzel.
Put the tray into the oven for 2 to 4 minutes. You just want the candy to soften, not melt.
When the candy starts to soften, they will change shape. Remove the tray from the oven.
While the candy is still warm, carefully place a pecan half on each candy, squish or flatten the candy out with the nut. Be careful because the pan will still be hot.
Let cool - you can put them in the refrigerator for 20 to 30 minutes to speed it up. Then place in an airtight container.
For the candy, you can also use Hershey™ chocolate or candy cane kisses, Reese's™ Peanut Butter Bells, or your favorite chocolate. It just needs to be about the same size as a Rolo™.
You don't have to use pecans, either. You can substitute your favorite nut or a colorful piece of candy like almond M&M™ or a peppermint swirl.


Copyright © 2011 Vincent Hale