[Title]
[text TOC]
[image TOC]
[Site Search]

[Donation]
| | Cartesian Diver | |
| --- | --- | --- |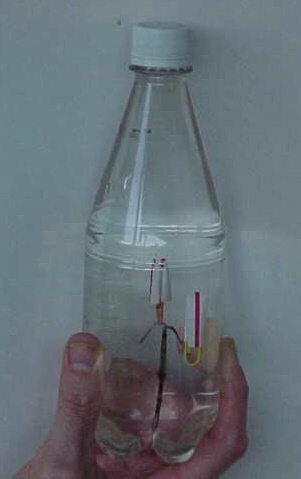 Materials
Tools
1 liter plastic bottle
Plastic straw
Plastic covered paper clips
2 sticks 8" long
Rubber band
Hot glue
See the Science Chapter for more instructions, hints, tips, and ideas.
The bottle needs to be straight especially near the bottom so it doesn't distort your view. If you can find a small bottle, it would make a neat neckerchief slide!
You may have to experiment with the amount of air to keep in the straw (Cartesian Diver). Too little air and it will sink to the bottom. Too much and it will be too difficult to make the diver sink.
Straighten one or two of the paperclips. Bend a loop at one end and a hook at the other. The loop will be glued to the bottom of the plastic bottle; the hook will be used to snag the Cartesian diver. You can get fancy by using more than one paperclip and forming multiple hooks.
Rubber band the two stick together with the hook end of the paperclip between them. If you happen to have a pair of extra long needle nose pliers, they work great.
Put a glob of hot glue on the loop end of the paperclip and quickly place it in the bottom of the plastic bottle. Leave it there for a few minutes to harden then remove the sticks.
Fill the bottle completely with water.
Make a diver by cutting a piece of straw about 2" long, fold it in half, and insert a paper clip in the straw to hold the two ends together.
Hold the diver by the straw and place it into the water in the bottle. Squeeze the straw until about a third of the air bubbles out. Now release the diver. Some water will be sucked into the straw. The diver should just float at the surface.
Add extra if necessary to completely fill the bottle. Then tightly screw on the lid.
When you squeeze on the bottle the diver should go deeper. If it is too difficult to get the diver to go to the bottom, then squeeze a little more air out of the straw.
As you squeeze on the bottle, you are increasing the internal pressure. Since water doesn't compress very easily, the air in the straw compresses. This reduces its volume and thus how much water it displaces. The less water it displaces the heaver it is and the deeper it will dive. You are balancing the floatation of the diver against the pull of gravity.
By squeezing on the bottle, you can control how deep the diver goes. Tilt the bottle to one side to catch the diver on the hook. To release the diver, simply turn the bottle upside down (the diver will float up from the bottom) then right-side-up.


Copyright © 2004 Vincent Hale