[Title]
[text TOC]
[image TOC]
[Site Search]

[Donation]
| | Pasta Alphabet | |
| --- | --- | --- |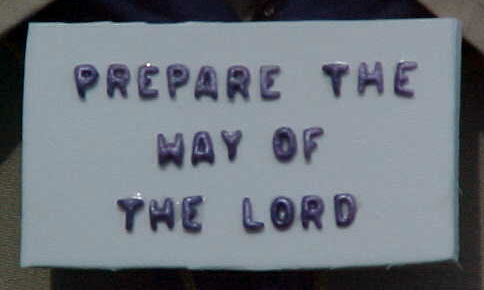 Materials
Tools
Pasta letters
Background
PCV Ring
Paint and brushes
Tweezers, toothpicks
Tray
Glue
Hot Glue
See the Miscellaneous Chapter for more instructions, hints, tips, and ideas.
Here is one that you can use your imagination on. First you have to find pasta letters. These are the same as are used in alphabet soup. Some groceries carry them, some don't. If yours doesn't carry them, you might ask if they could get them. It is very inexpensive for a bag of letters and numbers. Use craft foam or leather to make a background. Choose a color that will make the slide stand out on your neckerchief. Cut the background to the desired shape - heart, rectangle, circle, state silhouette, Christmas tree, ...
Give each boy a teaspoon of letters in a Styrofoam meat tray. Find the letters for the saying or name you want. Paint with acrylic paint. Let them dry on a paper. If you use too much paint, they will stick to the paper and be difficult to remove. Be careful so that you don't break the letters while removing them. If they do break, you can glue them together once they are on the background. A toothpick and tweezers are handy for maneuvering the letters. Place a drop of glue (Tacky glue) on the paper. After the paint is dry, remove the letters from the paper with tweezers. Get a little glue on the toothpick and put it on the back of the letter. Place the letters on the background and maneuver it to the correct position. Attach a ring to the background using hot glue.


Copyright © 2001 Vincent Hale