[Title]
[text TOC]
[image TOC]
[Site Search]

[Donation]
| | Pool Toy | |
| --- | --- | --- |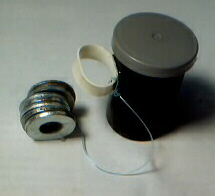 Materials
Tools
Film canister
8 or more 3/8" Washers
2' Fishing line (30# test)
PVC ring
E-6000™ glue
Scissors
See the Film Canister Chapter for more instructions, hints, tips, and ideas.
This is an easy one to make and a fun one to take to camp.
Ahead of time, glue the PVC ring to the film canister. You'll want to use E-6000™ because it is a lot stronger than other glues. Roughen up the ring and film canister with some sandpaper before gluing. It takes about a day for the glue to dry completely.
The washers have a whole 3/8" in diameter. The outside diameter is 1".
Make the toy with a black film canister to make it very visible in the pool or use a clear one for more of a challenge.
Tie one end of the fishing line through the PVC ring. This site has good instructions for tying an improved clinch knot.
Leave about six inches of line between the washers and the PVC ring. Tie the other end through the washers using the same improved clinch knot. Trim off the excess fishing line.
To use as a neckerchief slide, place the washers and fishing line inside the film canister. To use in the pool, take the washers out and replace the lid firmly. The film canister will float a few inches above the bottom of the pool. Be sure to dry the washers off and dry out the film canister after every use or the washers will rust.


Copyright © 2003 Vincent Hale