[Title]
[text TOC]
[image TOC]
[Site Search]

[Donation]
| | Emergency Litterbag | |
| --- | --- | --- |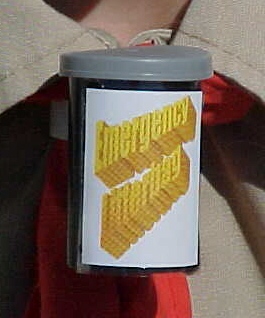 Materials
Tools
Film Canister or larger container
Plastic Trash bag
Label
"D" PVC ring
Hot Glue
Clear tape
See the Film Canister Chapter for more instructions, hints, tips, and ideas.
Carrying an emergency garbage is always a good idea. We should always clean up after ourselves. This applies to everyday life, but especially in the outdoors. Litter in a wilderness area is an eyesore and spoils your experience. Do your best to leave a place cleaner than you found it.
To make this project, glue a label to a film canister using hot glue or a strong clear tape. Then hot glue a PVC ring to the back. The toughest part is finding a plastic garbage bag that you can fold up small enough to fit inside the film canister. The size that I've been able to use is a 33--gallon bag that measures 2'9" x 3'4" x .51 mil. It is best to get the ones that come on a roll.
I've had better luck folding the bags than rolling them. To get the bag to the correct size, start folding it as neatly as possible. When you start getting it about two to three times the size of the film canister begin planning to see how you will have to fold it to make the most of the container's size. This might mean folding it into thirds instead of halves. You may even want to start by folding it into thirds once, then finishing it by folding it in half several times.
Trash bags are great to keep on hand for all kinds of uses. Here are some uses for them:
Poncho - neatly tear a hole in the bottom for your head. If you must, tear holes for your arms.
Sleep bag - stuff with dry leaves
Vapor barrier - see this thebackpacker.com article for more information
Liner for your pack
Liner for your sleeping bag - keeping it dry is most important. Put a trash bag inside your sleeping bag's nylon stuff bag, then stuff the sleeping bag into the trash bag.
Dirty laundry bag
Wet clothes bag - don't leave them in there long, dry out as soon as possible to avoid mold and mildew.
Mat to set your dirty boots on inside your tent.
Shade - light colors are best
Emergency signal - bright red, yellow, or orange are best
What are some of your good ideas?


Copyright © 2002 Vincent Hale