[Title]
[text TOC]
[image TOC]
[Site Search]

[Donation]
| | Cookie Cutter Ornament | |
| --- | --- | --- |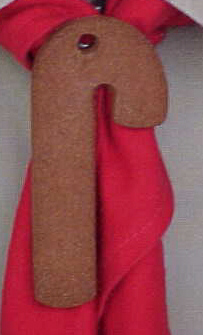 &nbsp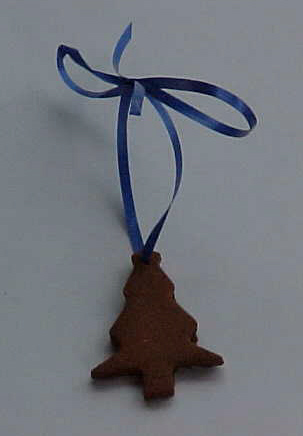 Materials
Tools
Clay

Wax paper
Rolling pin
Measuring spoon
Cookie cutters
Stir straw
Ribbon or yarn
See the Clay Chapter for more instructions, hints, tips, and ideas.
Instead of a rolling pin, you can use a sturdy cardboard tube or a plastic glass, bottle, or jar.
This works really well with the cinnamon and applesauce clay.
To make the hole in the ornament, you can use one of those thin straws used to stir coffee or use a stiff toothpick.
Roll the clay 1/8" to 1/4" thick on the wax paper.
Press the cookie cutter into the clay.
Remove the extra dough from around the cookie cutter.
Make the hole to hang the ornament. Make it large enough to easily slide the ribbon or yarn through, but make sure there is enough clay on the sides of the hole to support the ornament.
Carefully remove the cookie cutter.
Follow the instructions for drying.
After the ornaments have dried, smooth the edges with a little sandpaper. Put a ribbon or yarn through the hole (a toothpick will come in handy to poke it through) and tie in a decorative knot. You can decorate them with fabric paint if desired.
Instead of making an ornament, make a neckerchief slide instead!
What do you do with that little ball of clay that is always left over? Shape it into a round ball. Make a hook or hanger from a thin wire, Christmas ornament hook, or small paper clip and push it into the ball. Let the ball dry longer because it is so thick. Decorate it with fabric paint.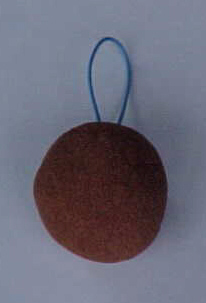 Copyright © 2004 Vincent Hale